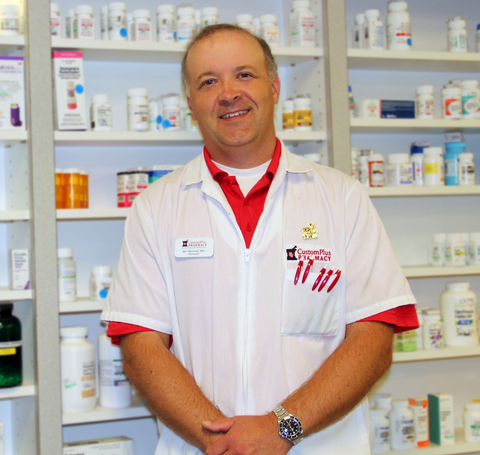 Ben Rachwal, Owner And RPh
Ben Rachwal was born and raised just north of Detroit, in Pontiac, Michigan. With both parents as pharmacist role models, Ben aspired to own his own store some day like his mother and father.Ben graduated from Purdue School of Pharmacy with a Bachelor of Science in Pharmacy. He met Belinda while attending Purdue and decided to stay in the community he had grown to love. Together they have one daughter and son-in-law, and two grandchildren. While in college Ben worked at he worked at Hooks and continued his employment with the company after college when Hooks became Revco, then CVS pharmacy. He then continued his retail experience at CVS and then Target Pharmacy. Having a desire to apply his clinical pharmacy skills, Ben joined the team at Seton, the pharmacy for the intensive care unit at Saint Vincent in Lafayette.
His lifelong experiences in both retail and clinical pharmacy offered him the perfect combination of knowledge for a pharmacy of his own. In 2012, Ben and his wife Belinda decided to launch their own independent compounding pharmacy. In a land of giants, CVS, Walgreen's, Wal-Mart, and more, Ben took the bold leap and started offering pharmacy services where he worked hard to focus on the patient approach. With the core value of giving the patient the care they deserve, Ben started from zero customers. Now 4 years later the business continues to serve the community with exceptional staff and loyal customers to thank. In addition to the pharmacy, Ben is President of the Community Pharmacies of Indiana organization and has spent many semesters as a student pharmacy mentor. Outside of the pharmacy, Ben loves to spend his time with his family and enjoys time outdoors.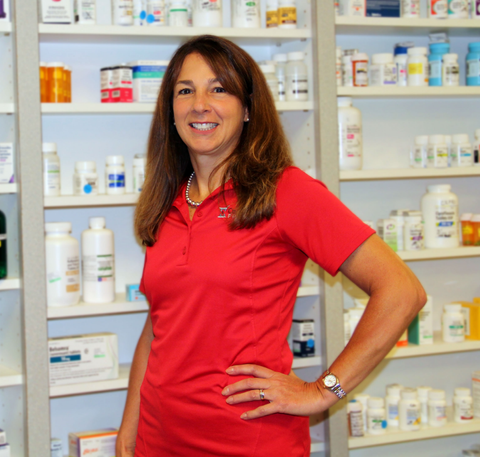 Belinda Rachwal, Owner And Chief Financial Officer
Belinda Rachwal started the venture of CustomPlus Pharmacy over four years ago with her husband and co-owner, Ben Rachwal. Belinda is the Chief Financial Officer for CustomPlus and brings over 27 years of finance and accounting experience to the organization. Her past work experience in healthcare, manufacturing, and not-for-profit has provided her with a strong foundation for managing the financial affairs and owning a small business. Belinda is an integral part to the daily operations as well as running the entire financial side of the business. Prior to CustomPlus, Belinda was the Vice President of Finance for the Purdue Research Foundation. She holds her CPA license and is a member of the American Institute of Certified Public Accountants. She also volunteers her time as a Board member and Treasurer for both the Greater Lafayette Civic Theater and her neighborhood association. In her spare time, her greatest enjoyment is spending time with her two grandchildren and her family. She loves spending time boating and enjoys spending time on the water.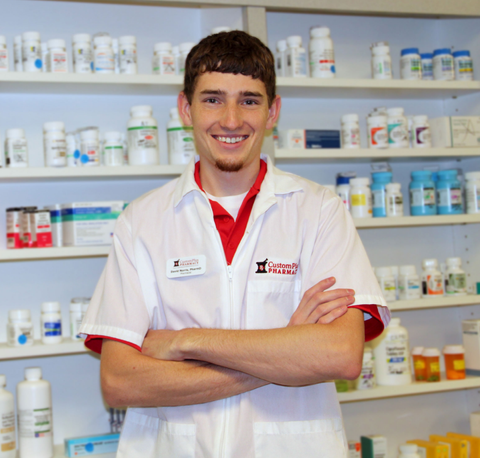 David Norris, PharmD And BSM
David Norris is a pharmacist who started working at CustomPlus immediately following graduation from Purdue University in 2014 with his Doctor of Pharmacy and Bachelor of Science in Management. His passion for pharmacy started in his hometown of Lebanon, Indiana where he began working at an independent pharmacy at the age of 16. His experience there drove him to the field of pharmacy. During his last year in college he had the opportunity to work with Benjamin Rachwal, owner of CustomPlus, where they discovered a shared entrepreneurial spirit and desire to serve the Lafayette community. With his additional time, David enjoys mentoring other Purdue pharmacy students by offering job shadowing opportunities and advice.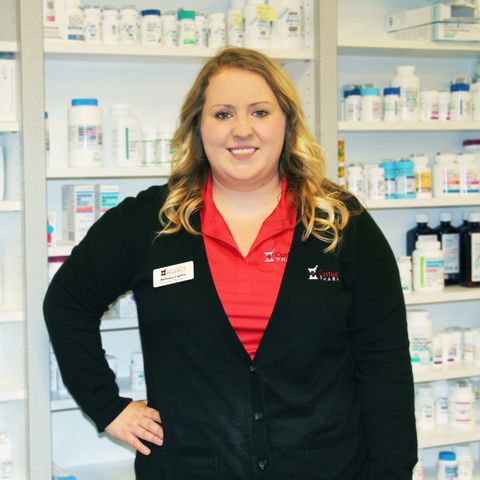 Bethany Lightle, Pharmacy Technician
Bethany Lightly started working for CustomPlus in August 2016. Previously, Bethany was employed by Stembel Pharmacy in Fowler, Indiana and worked there for nine years. Bethany was raised in Fowler and currently lives there with her husband. She graduated from Ivy Tech College with her Associates in Medical Assisting and is currently enrolled at Ivy Tech working towards an Associates in Surgical Technology. In Bethany's spare time she enjoys reading and relaxing at home with her husband, Curtis.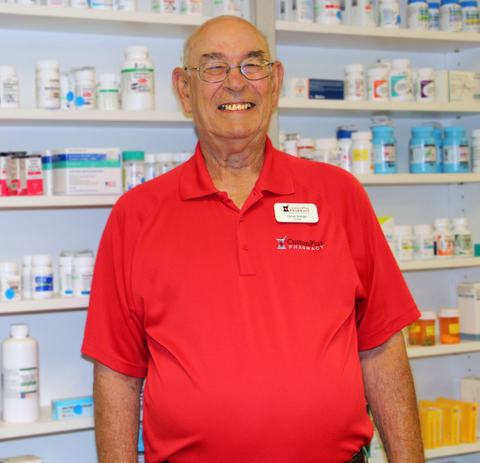 Harvie Granger, Courier
Harvie Granger started working at CustomPlus in the January of 2016 as a courier. Prior to CustomPlus, Harvie worked in the Traffic Signal Industry for over 50 years. Before retiring in 2015, he held a variety of positions including Traffic Signal Maintenance Supervision, Sales, Maintenance assistance and programming, and Traffic Signal Designer. Harvie has been a member of the Harrison Kiwanis International for over 10 years. In his spare time, he likes to spend time with his wife Donna and play Euchre.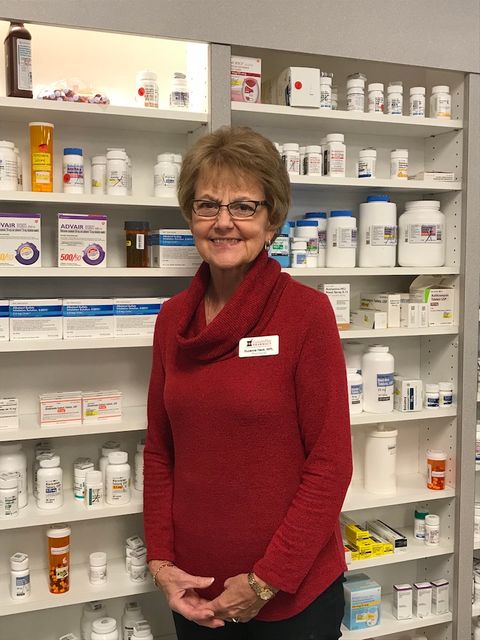 Suzanne Henk
Suzanne is one of our Long Term Care pharmacists who began working for CustomPlus in June of 2017. Suzanne was born in Warsaw Indiana and graduated from Purdue University School of Pharmacy in 1972 as a Registered Pharmacist. Suzanne began working in retail pharmacy in 1970 at Christiansen Pharmacy in downtown Lafayette. She has since worked in many independent pharmacies over the years, and most recently before CustomPlus she worked at Marsh Pharmacy on Teal Road. Suzanne was blessed to have three children and four grandchildren. She is a Co-Founder of the Celiac Gluten Intolerance group in Tippecanoe County, as well as an active member of St. James Lutheran Church. In her free time Suzanne loves reading, traveling, spending time with family, and any outdoor water activities.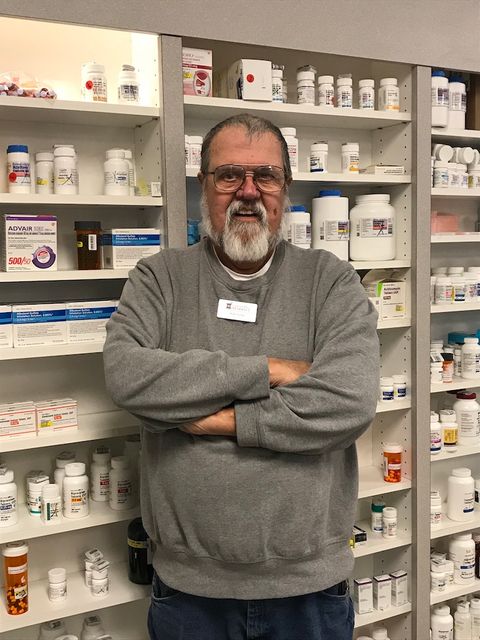 Robert "Bob" Hulse
Bob began working for CustomPlus in October of 2017 as a courier. Bob was born in Indianapolis, and graduated from Lebanon High School. He attended Purdue University for one year, and then joined a five year Tool & Die Journeyman Certification program. Before CustomPlus Bob worked as a mechanic for Chevrolet, worked for 52 years as a journeyman Tool & Die maker, specializing in special machinery, and was a team member for building professional race cars. Bob and his wife Dori are blessed with 6 sons, 2 daughters, 19 grandchildren, 6 great grandchildren, and 2 fur babies (a chocolate lab and a golden doodle). Bob has previously spent 5 years on the Brownsburg Fire and Rescue as a training officer, and held his EMT license. In his free time Bob enjoys building radio controlled aircrafts, building a street rod, and spoiling the dogs.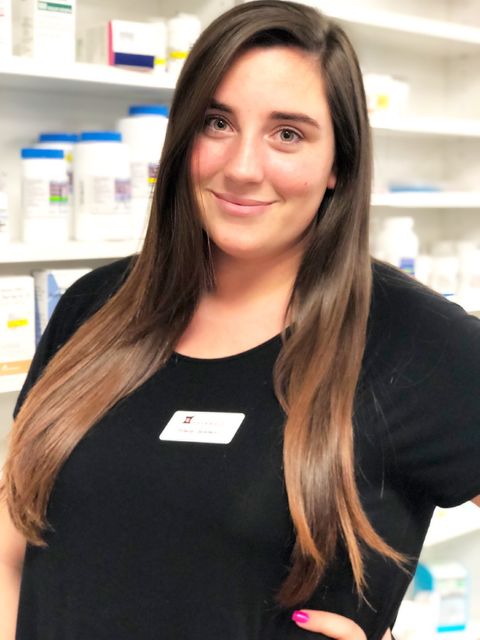 Briana Davidson
Brie began working at CustomPlus Pharmacy as a Pharmacy Technician in September of 2017. Previously, Brie was employed at CVS Pharmacy in Logansport where she worked for four years. She attended Indiana University of Kokomo in 2011 for Exploratory Studies. She married her husband Jeremy in 2015 after meeting in 2010. Together they have six children, one dog, two cats, and two chickens. Brie loves to volunteer at Fairview elementary where here children go to school, and her father's businesses, JB Auto Sales and JB Construction. In her free time she likes spending time with her family and friends riding ATV's, taking pictures of her kids, cruising with her husband, and snapchating her life.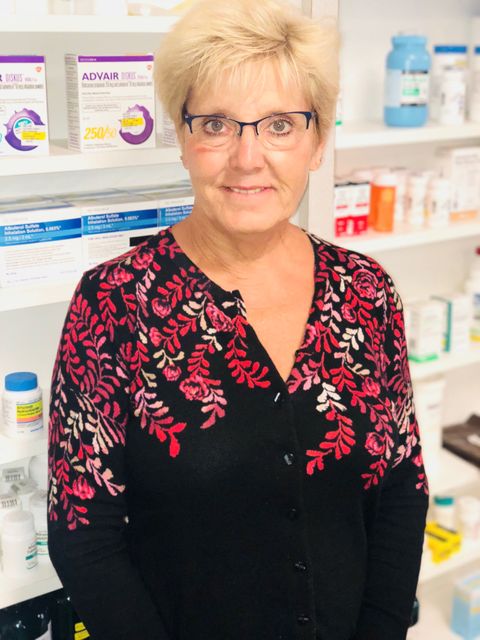 Cam Bushman Mckinney
Cam is one of our Long Term Care pharmacists who began working for CustomPlus pharmacy in August of 2017. Cam graduated from Purdue School of Pharmacy in 1982 with her Bachelor of Science in Pharmacy. Cam's love of the pharmacy field came from watching her dad help people at his pharmacy in Otterbein, Thompson Drug Store. She has had many opportunities in pharmacy working at Thompson Drug Store, Wells Yeager Best, Family Pharmacare, Purdue University Pharmacy, Stembels Pharmacy, and she helped start the original Arnett Pharmacy on Greenbush Street. Cam is blessed to have her husband Murf, sons Zach and Tait, their wives Tiff and Natalie, and her grand babies Ellie and Emerie. In her free time Cam enjoys spending time with her family, swimming, mowing their 10 acre lot, gardening, bible study, and cross-stitching.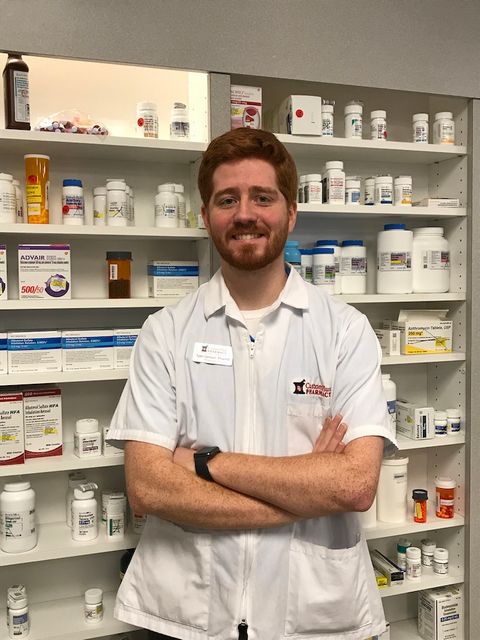 Tyler Gerlach
Tyler Gerlach is a pharmacist who started working at CustomPlus immediately following graduation from Purdue University in 2018 with his Doctor of Pharmacy degree. Tyler is from the area and attended Harrison High School. During his undergrad years Tyler worked for CustomPlus as a Pharmacy intern. Tyler enjoys watching sports, hanging out with his friends, and spending time with his cat Rusty.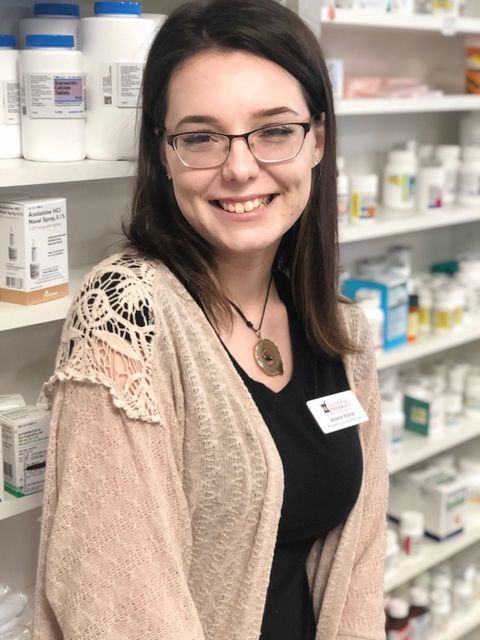 Jessica Wyrick
Jessica Wyrick is the most recent addition to the CustomPlus family as a Pharmacy Technician. She started in February of 2019, and Jessica brings previous Pharmacy Technician experience with her to the group. Jessica currently works in both the retail and long term care pharmacy. She enjoys being able to help our patients, as well as her workday being different everyday. Jessica enjoys drawing, painting, music festivals and spending time with her family, especially her 9 year old German Shepard named Tobi.